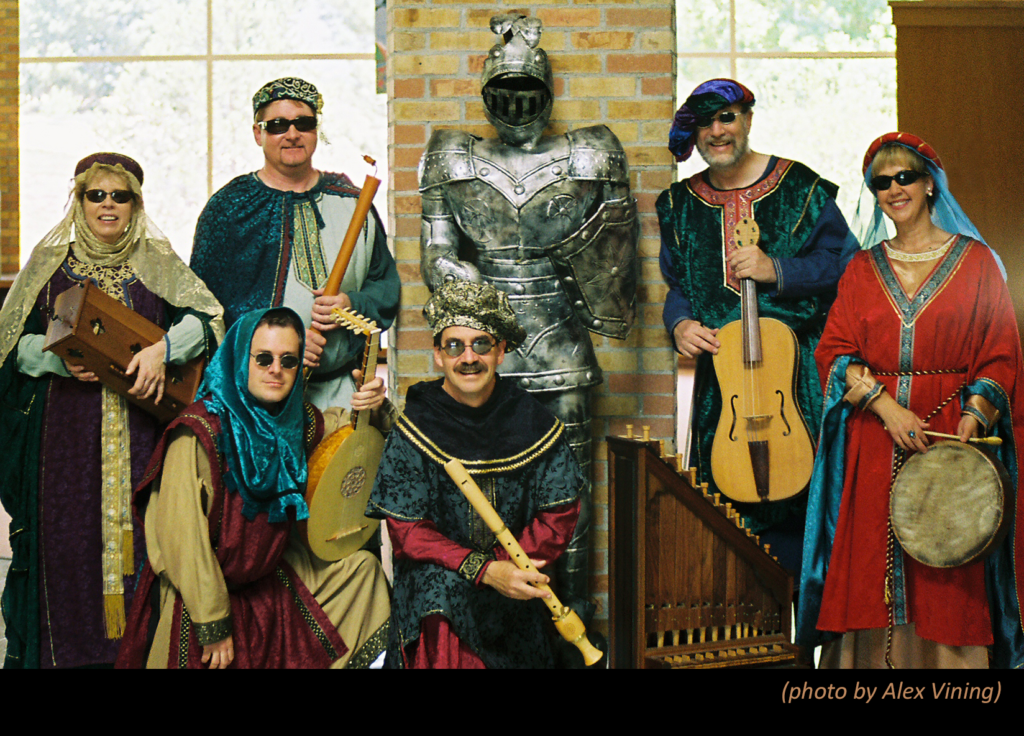 Founded by local musician and early music enthusiast John Truitt, Música Antigua de Albuquerque has been performing medieval, Renaissance and Baroque music since 1978.   In recognition of New Mexico's Hispanic tradition, the ensemble concentrated on the repertoire of Renaissance and medieval Spain in its early performances.  Soon, however, the organization began to broaden the scope of its repertoire, and its concerts have since featured music from many areas in Europe from the 13th to the 18th centuries.
Música Antigua has given guest performances throughout New Mexico, including Las Cruces, Silver City, Portales, Hobbs, Taos, Tucumcari, Los Alamos, Socorro, Grants, Corrales, Cedar Crest, Tomé, and Mountainair.  The ensemble has given joint performances with the Sangre de Cristo Chorale and the Coro de Cámara, and has collaborated with the Cathedral Church of St. John in productions of the medieval Play of Daniel and T. S. Eliot's Murder in the Cathedral.  In 2002, the group performed for the Southwest Repertory Theater's Shakespeare Festival.  The ensemble has also given tour performances in Houston and Milwaukee.
In addition to its concert series and guest performances, Música Antigua gives frequent lecture-demonstrations of early music and instruments to adults and students of all ages. As part of our educational mission, we also coach the Música Antigua Youth Consort, a small group of select high school students who want to expand their musical horizons by exploring the world of early music. The students are able to try a variety of period instruments and the ensemble gives a recital each year during the spring.
Música Antigua is the recipient of the Albuquerque Arts Alliance's 2002 Bravo Award for Excellence in Music, an honor of which we are exceedingly proud.  Música Antigua has received grants from the National Endowment for the Arts, New Mexico Arts, the New Mexico Endowment for the Humanities, the McCune Charitable Foundation, the New Mexico Quincentenary Commission, the Santa Fe Arts Commission, and the City of Albuquerque Urban Enhancement Trust Fund.

All of our CDs, as well as our other merchandise (T-Shirts, totebags) can be ordered online, or you may print out the order form and send it to us by mail.

Thanks very much to all of you who have made contributions throughout the years.  Your support helped keep us going during the pandemic, and your messages of encouragement were very much appreciated.
How to Continue Helping Out:
Donation Categories
| | |
| --- | --- |
| Bach Benefactors ($500+) | Dufay Donors ($50+) |
| Praetorius Patrons ($250+) | Machaut Muses ($25+) |
| Hassler Helpers ($100+) | Troubadour Troupers ($10+) |
You can also be a walking advertisement for Música Antigua:
| | |
| --- | --- |
| | |
| Música Antigua | Música Antigua |
| T-Shirts | Totebags |
Thank you from the MAA Board of Directors
Martin Doviak
Gwen Easterday
Silvina Farmin
Elena Maietta
Art Sheinberg
Colleen Sheinberg
Kathy Wimmer
Música Antigua de Albuquerque
1017 Roma NE
Albuquerque, NM 87106-4733
(505) 842-9613
musicaantigua@comcast.net
Send questions or comments about this website to musicaantigua@comcast.net
All information, images, and materials contained herein are copyright © 2021 by Música Antigua de Albuquerque unless otherwise noted.
Last updated May 29, 2023